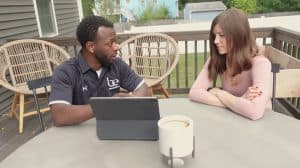 Deciding to go solar can be a big switch to make considering the investment and the change in your future lifestyle. Doing your research and deciding on a good solar company to help you through the process can make the transition much easier. Here are 10 questions you should ask before choosing a solar company to hire:
How much experience do they have?

It's better to go with solar companies that have served many clients in the past or have been established for a long time. With more experience comes more skill!

Do they know my area?

Choose a provider who knows the area you live in. The more acquainted they are with the area and its weather patterns, the better they'll be able to serve your needs.

Where do the solar panels come from?

Some solar companies function as brokers for solar panel "makes." At Boundless, we install Freedom Forever, one of America's fastest-growing residential solar power companies.

What are the upfront costs?

Figure out your budget and decide how much you're willing to pay for a rooftop solar panel system. Then, do your research and compare costs across promising solar companies, taking into account experience and quality.

How much do I currently spend on electricity?

Depending on how much electricity you use per month and how much sunshine your home is exposed to on a daily basis, you could offset tens of thousands of dollars over the lifetime of your solar system.

How much will I save?

The amount of power generated by your system will be directly related to the size and number of your panels, as well as the amount of sunlight your home receives. Go with a solar company that predicts high savings for you over the lifetime of your solar system.

How much do they know about state incentives?

It's important to choose a solar company that's aware of state incentives. Different states offer buyback programs that allow homeowners to sell excess generated energy back to the utility companies. The SMART program in Massachusetts pays homeowners a monthly check for 10 years and is the best in the whole country.

Do they offer any incentives themselves?

Sometimes, individual solar companies offer their own incentives. Be sure to ask your potential providers about their offerings.

Do they offer leases and lease-to-own?

Sometimes, purchasing a system is too large an investment to stomach. In these cases, opt for a solar company that offers systems for lease. With Boundless, after 5 years of leasing, you can buy out your system at a fair market value that will almost certainly be lower than what you would have paid if you purchased it at the start.

Do they offer loans?

Even if you can afford to purchase instead of lease, few have the funds to purchase a solar system outright. Work with a solar company that offers loans and financing – some people are able to pay off their solar panel system in just 5 years!
The Boundless Difference
Going solar is one of the most important home improvements you can make as a homeowner. At Boundless, we refuse to use stock solutions. We will provide you with a tailored plan for your home that fits your energy and financial needs.
We understand that going solar is a major undertaking. To put you at ease, we bring a wealth of experience and knowledge to your doorstep. We hire the best in the industry and empower them to do their best work for you, our customer.
With a strong work ethic comes a high set of standards that we hold ourselves accountable to. We care about our customers and because of that we never chase the "quick sale." At Boundless, we believe in building lasting relationships and that means being as open and honest as possible.