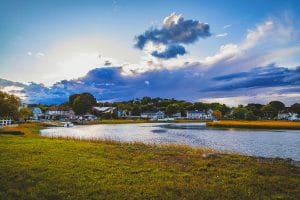 Curious about how solar panels work in the Bay State? While Massachusetts might not make you think of the constant sunshine typically associated with solar power, plenty of people in the state are experiencing the benefits of solar panels.
Here are some facts about solar panels in Massachusetts that will show you why they make sense even in a state known for its cold and snowy winters.
Solar Panel Popularity in Massachusetts
You might be surprised to learn that Massachusetts ranks in the top 10 states for solar power use. The latest report from the Solar Energy Industries Association showed that 18.23% of the state's electricity comes from solar. That's enough to power nearly 500,000 homes!
Not only are solar systems accessible in Massachusetts, they're also affordable. The same report highlighted that over the last five years, the price to install solar has decreased by 45%.
As you can see, solar panels are popular among Massachusetts residents, in large part due to their affordability. But how do they hold up against harsh and often snowy winters?
What About the Weather?
It's no secret that the Northeast experiences its fair share of snow throughout the winter (and the occasional frost in the spring and fall). That's why a major concern for Massachusetts homeowners is if a solar system can work year-round.
The short answer is yes. While weather does play a role in how much energy a solar system produces, sunshine is all it needs. But what about snow? It's a common misconception that snowfall will cover panels and render them unusable for the season, but that's far from true. In fact, the panels actually act as snow deterrents!
As the solar panels convert the sun's rays into usable electricity, they also generate heat. That means snow rarely sticks to the panels as it either melts or slides off. Even during these conditions, your solar system is still exposed to ambient light that it will convert into electricity throughout the day.
Incentives You Should Know About
Not only do solar panels make sense in Massachusetts, the state also offers incentives for homeowners who use this renewable resource. The Massachusetts Clean Energy Center highlighted eight incentives and programs for residents to take advantage of.
Tax credits are a popular option that can help homeowners cover some of the costs of installation. Net metering allows customers to receive credits for their utility bills for excess generation in any given month. This is perfect for residents who want to use some of this "extra" energy when their solar system may not be generating as much electricity, like during the winter.
There are even loans available for qualified customers who may need some extra capital to install a solar system and get it running!
As you can see, solar panels in Massachusetts are a smart choice. They benefit homeowners in the long run and the state makes them an accessible option for occupants at all income levels through sponsored programs.
Are you a resident of Massachusetts wanting to take advantage of solar systems? Contact the team at Boundless today for more information and a personalized quote.